DONDANVILLE
DONTANVILLE
DONTENVILLE
1.1
JOSEPH DONDANVILLE (1840 - 1908 )
MARY ELIZABETH BEAL (1842 - 1916)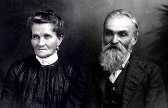 Joseph Dondanville, the oldest son of Ludwig Dontenville and Clara Brumt, was born on December 29, 1840. He immigrated to La Salle County, Illinois with his parents in 1850 at the age of 10. In 1859, Joseph traveled to the Colorado Gold fields along Cherry Creek near present day Denver. In 1864-65 he went to the northern gold mines in Montana and Idaho. During those years he traveled through most of the west.

Joseph married Mary Elizabeth Beal, a native of Ohio, on September 22, 1865. They settled in Grundy County, Illinois on a farm in Highland Township south of Verona, Illinois in February 1867. There they raised six children Joseph, born in 1867; Edward, 1869; Pauline, 1872; Lois, 1875; Frank, 1879; and Eugene, 1886.

Joseph retired from farming in 1899 and his oldest son Joseph took over operation of the farm. In partnership with Hiram Street of Coal City, Illinois he invested in land in Port Orange Florida. Joseph and Mary Elizabeth mover to Port Orange. Eventually deciding that there was little chance for an early return on his investment, Joseph sold most of his holdings in Florida in the early 1900's.

In 1905 he invested in homestead farms which had been proved by others in Mountain Park, Kiowa County, near Snyder Oklahoma. Purchasing farms in the name of each of his four sons and daughter Pauline, he held two in his own name. While three of his four sons eventually occupied their farms, none of them remained in Oklahoma. The two farms purchased in Joseph and Mary Elizabeth's name remained in the family until the 1940s.

Following sale of the land in Florida, Joseph and Mary Elizabeth divided their time between Port Orange and Oklahoma. It was at Frank's farm where he died on October 17, 1908. Mary Elizabeth continued to travel between the homes of children in Florida, Washington, and Illinois. It was while visiting her grandchildren and son-in-law Dr.John Kirby in Cedarvale, Kansas that she died on August 21, 1916. Joseph and Mary Elizabeth are buried in Snyder Oklahoma.



11.1 JOSEPH DONDANVILLE - CORA RATLIFF
11.2 EDWARD DONDANVILLE - NELLIE F. MORGAN
11.3 PAULINE DONDANVILLE - WILLIAM E. BAILY
11.4 LOIS DONDANVILLE - JOHN C. KIRBY
11.5 FRANK DONDANVILLE - LIDA SKINNER
11.6 EUGENE DONDANVILLE - GRACE PIERCE