DONDANVILLE
DONTANVILLE
DONTENVILLE
11.3
PAULINE DONDANVILLE (1872-1931)
WILLIAM E. BAILY (1872- Unknown)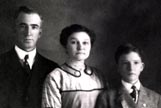 Pauline Dondanville, the third of six children of Joseph Dondanville and Mary Elizabeth Beal , was born on the family farm in Highland Township, Grundy County, Illinois on March 20, 1872. From an early age she was referred to as "Doll" or 'Dollie" by her parents and brothers. She would carry this nickname throughout her life. Pauline received her early education in the country schools of Highland Township.
In the mid 1890s Pauline met William E. Baily , from St. Clair County, Missouri, who was teaching school in Verona. Pauline and Bailey were married in Highland Township on March 1, 1897 by Norral D. Hanes, minister of the gospel , with Pauline's brother Ed, and Ed's wife Nellie as their witnesses. Following their marriage, Baily wanted to return to school to complete his degree. Both Will and Pauline enrolled in nearby Valparaiso University in Indiana. Their only child. a son Erlan, was born in Illinois about 1900. The obituary for Pauline's sister Lois indicates that the Bailys were living in Chicago in 1907
In 1905 Pauline's father purchased adjacent 160 acre farms at Mountain Park , near Snyder , Oklahoma for Pauline and each of her four brothers. In 1909 Baily moved his family to Oklahoma City and established the Baily Tire Company at 518 West Main Street and later at 1016 West Main. The company sold high grade tires , gas, oil, and auto accessories. By the mid 1920s Baily was also involved in oil and gas wells in Texas and owned rental homes in Amarillo. Pauline ran the tire business while Baily pursued his other financial endeavors
In late 1929 the health of Pauline began to deteriorate. She was confined to her bed with a serious heart condition in mid 1931. Pauline died at 5:30 am on Friday, November 20, 1931. She was buried at Memorial Park Cemetery in Oklahoma City. In early 1932 Erlan and his wife Marble moved in with Will to hold down living expenses during the difficult financial times.
On December 24, 1932 Baily married Velma Chambers, a 48 year old widow with a teen age son, Jeff. They moved temporarily into Erlan's little house on 16th street. Business continued to be terrible . Gas and oil prices were down and income from the rental properties would not pay the taxes. The Baily tire business closed in July 1934 and Will became involved in Johnston - Baily Oil Operations. He also had an interest in gas wells in Coffeyville, Kansas. Will Baily died in Oklahoma City sometime in the mid to late 1940s.
Following the death of Mary Elizabeth Dondanville in 1916 Baily initiated a series of letters to Joseph and Elizabeth's heirs on behalf of Pauline who was administrator for her mother's estate. The letters pertained principally to income from two farms in the estate in Kiowa County Oklahoma. Between 1923 and 1943 Cora Dondanville retained those and other letters she received from Will Baily. The letters were passed to Cora's son Roy and eventually to Roy's daughter Shirley Dondanville Laws. The Baily Letters provide valuable insight to the lives of the descendants of Joseph and Mary Elizabeth Dondanville.
113.1 Erlan Baily , 1900 - 1976
married Marble Dewitt from Texas early 1920s; one child Mary Jean , 1922-86 ; upon death of Marble, married Mrs. Olive Jackson.