DONDANVILLE
DONTANVILLE
DONTENVILLE
11.4
LOIS DONDANVILLE (1875-1907)
JOHN C. KIRBY (1862-Unknown )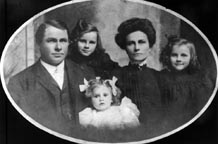 Lois Dondanville, the fourth of six child, and second daughter, of Joseph Dondanville and Mary Elizabeth Beal , was born on the family farm in Highland Township, Grundy County, Illinois on July 17, 1875. Pauline received her early education in the country schools of Highland Township and may have attended Valparaiso University in Indiana as had her sister and two younger brothers.
On January 18, 1899 Lois was married in Highland Township to John Clay Kirby , a young physician practicing in Verona. Kirby, who was born in Warsaw, Missouri on January 7 , 1864 had been raised in Butler County Kansas. He attended Kansas State Normal College and graduated from Iowa State Medical College in 1892. He commenced the practice of medicine in Verona, Illinois in 1893.
Lois and John had twin daughters, Louise and Jeanne, born in Verona on November 24 , 1899. In 1901 the family moved to Cedar Vale, Kansas where Kirby established a general medical and surgical practice. A third daughter, Evelyn , was born in April , 1903 , in Cedar Vale.
Lois Dondanville Kirby died at Cedar Vail on October 24, 1907 at age 32. At the time other death, Doctor Kirby was visiting in Verona, Illinois, en route back to Kansas with their youngest daughter Evelyn, after completing a course at Chicago Post Graduate Medical College. Faced with raising three young daughters alone , Kirby sent four year old Evelyn to live with her Uncle Frank and his wife Lida in Mountain Park , Oklahoma.
In 1909 , at Winfield Park , Kansas , Doctor Kirby was married to Bertha McNeely , daughter of retired Cedar Vale farmers. Evelyn returned to live with her father, step-mother and sisters in Kansas. Bertha and John Kirby were the parents of one son , John Paul , born April 19 , 1910.
On August 21 , 1916 , Mary Elizabeth Dondanville died at the Kirby home in Cedar Vale where she had come for a visit with her son-in-law and grand daughters. Doctor Kirby's date of death is not known.
114.1 Louise Kirby , 1899 - Unknown
married man by name of Berlin, divorced ; married William Sproul, one daughter Marguerite Anne Sproul, Sproul died about March 1931; married third husband from Sedan, Kansas, one child.
114.2 Jeanne Kirby , 1899 - Unknown
married Dr. Earl Logsdon , one son.
114.3 Evelyn Kirby , 1903 - Unknown
married John Freeburg , Pittsburg, Kansas lumber business , two sons and one daughter , daughter died in surgery at young age.
We have only limited information on the Kirby daughters and know nothing about the whereabouts of their descendants.This history could be greatly enhanced if you have additional information.