DONDANVILLE
DONTANVILLE
DONTENVILLE
11.5
FRANK DONDANVILLE (1879- 1943)
LIDA ELIZABETH SKINNER (1881-1966)


Frank Dondanville, the fifth of six child, and third son, of Joseph Dondanville and Mary Elizabeth Beal , was born on the family farm in Highland Township, Grundy County, Illinois on January 10, 1878. he received his early education in the country schools of Highland Township and attended Valparaiso University in Indiana .
At Valparaiso Frank met Lida Elizabeth Skinner, daughter of the owners of the Diamond Coal Company in Will County, Illinois. Frank returned to Verona following graduation. His courtship of Lida was off again - on again for the next few years. In the fall of 1905 Frank went to Oklahoma to build a house and ancillary buildings on the farm near Mountain Park that he had received from his father. He returned to Illinois and he and Lida were married at Diamond, Illinois on October 10, 1906 with Lida's friend Sara Short and Frank"s brother Eugene as their witnesses. They traveled to Oklahoma by train following the wedding.
The farm in Oklahoma was about two miles from Mountain Park and Lida taught school there. Lida was never happy with farm life. She did not perform the chores that were expected of a farm wife. Following Frank's father's death, his mother was often there to help on the farm. Shortly after the birth of their first child. Janet Elizabeth, on February 16, 1910., Frank and Lida moved first to Lawton, and then to Oklahoma City. They rented a flat and Frank worked in the stockyards. The farm near Mountain Park was rented to others.
Unhappy with life in Oklahoma, Lida returned to Illinois with Janet in 1912. Frank followed. Lida's brother was superintendent of a coal mine in Torino, Illinois and Frank went to work there as the mine carpenter. They lived in a company house. Their second child, Joseph David was born in Torino on December 24, 1915 and their third , John Alexander, on June 4, 1918. Torino was named for Turin in Italy , the town from which many of the miners had come .The mine in Torino closed in late 1918 and the town no longer exists .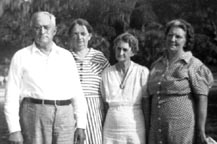 Following closing of the Torino Mine, The Skinner brothers bought a coal mine at Braidwood near Wilmington, Illinois and Frank traveled to Southern Illinois in pursuit of employment with another coal company. He returned to Torino to find that Lida had left for Wilmington with the three children and rented a house there . Frank followed to Wilmington and went to work for his brothers-in-law as mine carpenter / bookkeeper / cage operator / and jack of all trades. The Skinner brothers were not miners and Frank "ran the show".
In the early 1930s Frank bought a meat market in Wilmington from Henry Taylor and expanded into the grocery business. He initially had a partner and eventually owned the business by himself. Their son Jack ran the market for several years following Frank's retirement. Frank and Lida remained in Wilmington but often traveled to Port Orange, Florida. Frank died in 1945 in Wilmington. Lida died in 1966 at the home of her daughter Janet in Ramsey County, Minnesota.


115.1 Janet Elizabeth , 1910 -
married September 1930 in Illinois to James Price Schroeder 1902 - 1976 ; one son , James Beveridge Schroeder , '31.
115.2 Joseph David , 1915 - 2001
married Louise E. Amundson - 1994 ; three children , Gerry Lee , '39 ; William F, '44 ; and Janet A , '46.
115.3 John Alexander , 1918 - 1996
married February 15, 1938 in Wilmington, Illinois to Frances Jean Williams ; four children , Walter Josef , '39 ; Stephen James ' 41 ; Mary J , '48 ; and Margaret Ellen , '52.