DONDANVILLE
DONTANVILLE
DONTENVILLE
11.6
EUGENE PERRY DONDANVILLE (1886-1950)
GRACE PIERCE (1884-1969)


Eugene Perry Dondanville, the sixth and youngest child of Joseph Dondanville and Mary Elizabeth Beal , was born on the family farm in Highland Township, Grundy County, Illinois on December 20, 1886. Eugene was much younger than his brothers and sisters and his sister Pauline assumed much of the responsibility for his early upbringing. He received his primary education in the schools of Highland Township.
He attended Valparaiso University in Indiana and taught physics there. At Valparaiso he met Grace Pierce a resident of Valparaiso . Grace was engaged to someone else at the time they met . Eugene spent much of 1907 and 08 in Washington State with his brother Joseph recuperating from tuberculosis. He returned to Indiana in 1909 and asked Grace to marry him. They drove from Valparaiso to Chicago on Christmas day 1909 and were married at Englewood Church.
Eugene and Grace moved to the farm in Mountain Park, Oklahoma that had been given to him by his father. Their first son , Robert Wallace , was born in Oklahoma in October 1910. A second son , Max Eugene was born there on August 13 , 1912.
There was a mortgage on the Oklahoma farm and a large financial burden. Life was hard. Grace raised chickens but Eugene was not a farmer. Grace became ill and her brother came to Oklahoma to accompany her , with the two boys , back to Indiana. Eugene followed.
Eugene went to work in the Gary Mills of United States Steel in the mid 1910s. They lived in a company house on Fillmore Street . Their third child , Marjorie Helen, was born at home in Gary on November 13 , 1915. During the early days of the First World War Eugene worked 16 hours a day. On November 10, 1918 , the day before the Armistice was signed , Eugene was called into service. He was released on November 12th. They bought a home at 3767 Monroe in Gary.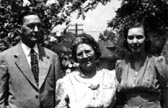 Following a good crop from the farm in Oklahoma, Eugene and Grace built a home at 3612 Adams. Eugene was promoted to foreman at the Sheet and Tin Mill. A fourth child , Pauline Jean, was born in 1929. Pauline died on April 20, 1930 . She is buried in Ridge Lawn Cemetery in Gary .They eventually sold the home on Adams for $7000 and built their home on Meadow Lane in Merrillville themselves with the help of a contractor.
With a thyroid problem that was corrected with medication and a history of heart attacks, Eugene retired to Bradenton , Florida in 1950. He became ill with pneumonia following a fishing trip shortly after his arrival in Florida. He died in Bradenton on October 10, 1950 .
Grace returned to Merrillville to the home at 20 Meadow Lane next door to her daughter Marjorie. When she was no longer able to live alone, Marjorie and her husband moved in with her. Grace died on April 19 , 1969. She was buried at Ridge Lawn Cemetery in Gary next to Eugene.
116.1 Robert Wallace Dondanville , 1910 - 1989
married in Gary, Indiana, 1937 to Elizabeth John , 1909 - 1980 ; three children , Dolores ; Robert Martin ; and Susan Jean , '51 ; following the death of Elizabeth in 1980 married Mrs.Mary Lou Harrison in 1983.
116.2 Max Eugene , 1912 - 1995
married in Gary, Indiana, April 14, 1935 to Ruth Elizabeth Snyder ; twin sons, David Frank , '37 ; and Douglas Eugene , '37.
116.3 Marjorie Helen , 1915 - 1995
married in Gary, Indiana, June 20, 1943 to David Noble Jr. ; two sons , Douglas David , '46 ; and Dean Wallace , '53.
116.4 Pauline Jean , 1929 - 1930