DONDANVILLE
DONTANVILLE
DONTENVILLE
11.2
EDWARD DONDANVILLE (1869-1941)
NELLIE F. MORGAN (Unknown-1962)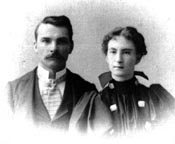 Edward. Dondanville, the second of six children of Joseph Dondanville and Mary Elizabeth Beal , was born on the family farm in Highland Township, Grundy County, Illinois on November 28, 1869. As a boy he assisted his father with the farming and attended local schools. On July 8, 1995 Ed married Nellie F. Morgan, probably of Verona, Illinois. Their first son, Samuel L. was born in Verona on November 24, 1896.
In 1905 Ed's father purchased adjacent farms at Mountain Park, near Snyder, Oklahoma for each of his sons and daughter Pauline. Edward moved his family to Oklahoma. There he farmed and worked as a carpenter. In 1910 Ed moved his family to Port Orange, Florida because of 14 year old Sam's asthmatic condition ,. A second son, Fredrick , was born on February 14, 1910 . It is not certain whether his birth was before or after the move to Florida.
In Port Orange Ed worked as a carpenter and plasterer. He built his own two story house on Dunlawton Street . Like their father, both sons were working in building trades by the late 1920s, Sam as a carpenter and Fred as a plasterer. The depression that began in 1929 brought building construction to a stand still. Ed bought shrimp boats for Sam and Fred thinking that would be a good business during hard times in the building construction industry.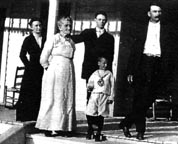 In the early 1930s Ed often worked the shrimp boats with his sons. Shrimp prices were low and the catches were poor. By the mid 1930s Fred had lost his boat and returned to work as a plasterer. Sam went to work for Marineland as Captain of their specimen boat.
By 1938 Ed's health was deteriorating and he deeded the home on Dunlawton to Fred. Ed and Nellie eventually move in with Sam and his family in St. Augustine. Edward Dondanville died in September 1941. Nellie continued to live with Sam until her death in January 1962. Both are buried in Port Orange, Florida.
112.1 Samuel L , 1896 -1973
married Martha Pauline Tippet of Richmond, Virginia on July 1, 1920 ; one child , Howard L. '23.
112.2 Fredrick B. , 1910 -1960
married Josephine from Fall River, Massachusetts , probably during World War II , divorced and Josephine returned to Massachusetts ; no children.