DONDANVILLE
DONTANVILLE
DONTENVILLE
11.1
JOSEPH B.DONDANVILLE (1867-1921)
CORA RATLIFF (1874-1943)

Joseph Beal Dondanville, the eldest of six children of Joseph Dondanville and Mary Elizabeth Beal , was born in Serena Township, LaSalle County, Illinois on August 10, 1867. He was raised on the family farm in Highland Township, Grundy County, Illinois north of Verona. He was affectionately referred to by his parents as Josie, a name that he carried into manhood.
Joseph attended primary school in Highland Township. His daughter recollected  in her later years that he may have briefly attended Niagara University in New York and  transferried to Valparaiso University in Indiana, dropping out after two years because of his health.
He likely worked the family farm with his father learning carpentry as a trade to supplement his farming income. In the early 1890s Joseph visited Beal cousins in Nebraska. There he met Cora Ratliff , daughter of Mennonite farmers who had come from Pennsylvania first to Vandalia, Illinois , where Cora was born, and then to a homestead in Liberty , Nebraska.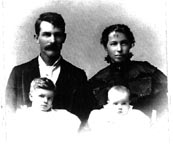 On December 25, 1895 , Joseph and Cora were married in Liberty. They returned to Illinois and established their home at Cabery, in Kankakee County, about 30 miles south east of Verona. Their first son, Seth Leroy, was born there on November 6, 1896, and their second , Raymond Joseph, on October 20 , 1897.

In 1899 Joseph Sr. retired from farming and moved to Port Orange, Florida. Joseph and Cora took over operation of the farm near Verona. Their third child, Ruth Evelyn was born there on April 20, 1899. A fourth child, Claude Palmer was born on November 30, 1900.

In the late 1890s large areas of desert like land in eastern Washington were reclaimed by irrigation and opened to wheatfarming. Attracted by the prospects , Cora's brother Fred Ratliff moved his family to St. John in the  Palouse Area. The heart of the winter wheat region . In early 1903 Joseph and his family followed. In St.John , Fred Ratliff had established a hardware business with his father-in-law, Mr. Cavanaugh , leasing wagons and equipment to wheat farmers. Joseph and his family lived with Fred until their own home could be completed. Joseph worked in the hardware business and used his carpentry skills to helped build windmills in the Palouse Area.

Not satisfied with indoor work Joseph and Benjamin De Good, a neighbor in St John, decided to head further west in search of farm land. They traveled by covered wagon west along the Snake River and up the Yakima River, to the Euclid District west of Prosser. They selected land just east of the current boundary between Yakima and Benton Counties in the area that is now Grandview.

The first buildings constructed on the farms in the Euclid District were the chicken houses. Joseph planted his first crop of potatoes and onions. In March 1905, he moved his family to the District. Joseph, Cora, and the boys lived in the DeGood's chicken house, and Ruth lived in a tent with the DeGoods, until their house could be completed. The first irrigation canal was completed and that first crop survived. A school house opened in the District that year. About the time that Joseph was establishing his farm in Washington, his father purchased adjacent farms at Mountain Park, near Snyder , Oklahoma for each of his sons and daughter Pauline. While Joseph never lived on or worked that farm , it remained in his family long after his death.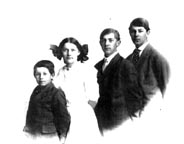 Shortly after the move to the Euclid District, Joseph established a nursery business in partnership with two men from Alaska with one providing the finance, the other the experience , and Joseph the land. In 1910 Joseph moved his family to the area that is now Byron, Washington. The entire nursery stock was transported across the Yakima River by barge and replanted. The children grew up in Byron. The older boys attended high school in Prosser , Ruth in Mabton, and Claude likely in Byron.

Some time before 1920, Joseph lost his farm as a result of his unscrupulous partners in the nursery business. He bought a commission warehouse in Prosser from which he shipped wheat , apples , and other produce to markets in Seattle . He and Cora moved to Berrydale, an area south west of Seattle that is now Covington.

In the winter of 1921 unusually heavy rainfall inundated the Seattle area. A mill at Berrydale, in which Joseph was involved, was in danger of flooding. On December 17, 1921 , while attempting to remove a gate on a weir above the mill to lower the water level, Joseph suffered a cerebral hemorrhage and drown. He was 54 years old.

Cora returned to Prosser where she was actively involved in the lives of her children and their families. She died on December 25, 1943.In the 1930s Joseph's grave had been moved from the West Prosser to the East Prosser Cemetery. He and Cora are buried there together

111.1 Seth Leroy , 1896 -1980
married June 1, 1922 in Prosser, Washington to Lillian Roberts ; two children , Shirley Ann , '24 ; and Kay Roy , '31.

111.2 Raymond Joseph , 1897 -1970
married Evelyn Musgrove ; two children , Donald Bruce , '25 ; and Joseph D , '26 ; second marriage to Nellie Louella Underwood four additional children, Yvonne , 1933 - 33 ; Raymond Lowell , '34 : Arlene Jeanette , 1935 - 1990 : and Arduth S , '?? ; third marriage to Pearl Schroeder.

111.3 Ruth Evelyn , 1899 -1981
married June 19, 1919 in Seattle to Charles Wesley Nessly Jr. : four children , Robert Leonard , '20 ; Laurence Donald . '21 ; Claude Burnell , 1924 -63 ; Cora Louise , '29 ; and Charles Joseph , 1934-34.

111.4 Claude Palmer , 1900 -1983
married Marjorie Johnson ; no children.