DONDANVILLE
DONTANVILLE
DONTENVILLE
1.3
MARY ANN DONDANVILLE (1843-1923)
LESTER BENOIT (1839-1907)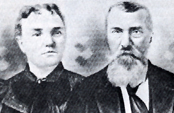 Mary Ann Dondanville, the eldest daughter and third child of Ludwig Dontenville and Clara Brumbt, was born in St. Maurice, Alsace on September 7, 1843. Her birth certificate recorded her name as Marie Anne. She immigrated to the United States with her parents in 1850 at the age of seven. As a young girl she worked as a domestic servant in the home of Levi Hess, a prominent Northville Township livestock broker.

Lester Benoit, son of Jean Henri and Marie Odile Benoit, was born July 22, 1839 in Ranrupt, Alsace, a small village approximately 15 kilometers to the North West of St. Maurice. Lester's baptismal name was Celestin. His family immigrated to the United States in 1842, arriving at the Port of New York aboard the Ship Utica, on November 17th. At the time of arrival Lester was four years of age. His oldest sibling Marie was 22; Jean was 20; Baptiste, 18; Joseph, 16; Charles, ten; Pierre, seven; and the youngest sister was one. The family settled on a farm in Northville Township, La Salle County, Illinois. The 1860 census found Lester, now 21, working as a laborer on the farm of John and Elizabeth Shelton near Somonauk, Illinois.


Mary Ann Dondanville very likely met Lester Benoit during the period when she was working for the Hess Family. They were married in Ottawa, Illinois on March 4, 1862. They established their first home in Serena Township. Their first child Clara was born in Serena in 1864. In October 1864 Lester and his friend Charles Chalus were mustered into the Union Army. They served in the 12th Illinois Cavalry, Company K. They fought in a major engagement in Liberty, Mississippi in late 1864. The unit moved into Tennessee where they carried out raids in early 1865. When the War ended in May, they were assigned to escort and guard duty in Texas. They were mustered out of the Union Army in Galveston, Texas, October 9, 1865. Five additional children were born in Illinois: Rosa in 1865; Charles Henry, 1866; Lester, 1868; Alfred, 1871; and Frances in 1873.

About 1871 Lester's brother Joseph, who was twelve years his senior, moved to Deer Creek Township in Webster County, Iowa with his wife Louise and three young children. Several additional children were born after their arrival in Iowa. In 1874, Lester and Mary followed his brother to Webster County. They eventually settled on a farm near Clare in Jackson Township. Because of the scarcity of lumber for frame construction their first home was constructed of sod. Seven additional children were born in Iowa: John Louis on January 24, 1875; Ellen Catherine in 1877; William Leo, 1879; Geneva Leonora, 1880; Clarence Edward, 1883; Oliver Raymond in May 1886; and Grace in 1889. William recalled that the Indians came to their farm regularly during the early years and his parents gave them food.

The first white settlers to arrive in Jackson Township, Webster County, Iowa in 1855 had come from Ireland. The town was platted in 1882, on the newly completed extension of the Fort Dodge and Des Moines Railroad. The town was named Clare, after County Clare from whence many of those early settlers had come. Several of the thirteen children of Mary Ann and Lester, and many of their grandchildren, married into the families of those early Irish settlers.

Lester's time in the Union Army left him with physical problems that affected the rest of his life. While bivouacked in Tennessee during the winter of 1864 he had contracted jaundice and flue. He was hospitalized for a period in Natchez. Lester would suffer with repertory problems that affected his ability to work. He suffered from visual problems and several incidents of temporary blindness. At one time, he was unable to see for several months. His sons had to lead him around the farm and do all the work. Records do not indicate whether the sight problem was the result of powder burns or disease.

As a result of his injuries and illness, Lester was granted a life long disability pension which Mary Ann would continue to receive after his death. Initially the pension was $8 per month. It eventually increased to $14. The program provided for an additional $2 per month for each child, but the family never received that amount. There were many applications for increase in pension, and each time they were denied.

By the time Lester reached his early 50s he was judged to be totally disabled and completely dependent upon his children for support. Lester and Mary Ann retired from farming and moved into a small home west of Clare. Lester died there in 1907. Mary Ann eventually entered a nursing home in Gilmore City, Iowa. In her later years her widows pension for Lester's Civil War disability, amounted to only $30 per month. She was heavily dependent upon her children for support. She died in the nursing home on October 22, 1923. Lester and Mary Ann are buried together in St. John's Cemetery in Gilmore City.

Family history researchers often devote greater effort to paternal rather than maternal ancestors. In the instance of the three daughters of Ludwig Dondanville and Clara Brumbt, that has been the case. This is probably due in part to the fact that the three daughters and their families moved to Central Iowa in the 1870s. That first generation maintained close contact with family in Illinois, traveling back and forth for wedding anniversaries, birthdays and other special occasions. With each generation the contact became more remote.
13.1 CLARA BENOIT - EDWARD J. HOOD
13.2 ROSA BENOIT - JOHN McMAHON
13.3 CHARLES HENRY BENOIT - HANNA COLEMAN
13.4 LESTER BENOIT - CATHERINE AGNES HOOD
13.5 ALFRED BENOIT - LILLIAN Unknown
13.6 FRANCES BENOIT - WILLIAM CHARLES CAVANAUGH
13.7 JOHN LOUIS BENOIT - ALICE LOEHR
13.8 ELLEN CATHERINE BENOIT - LUCIAN BROWN
13.9 WILLIAM LEO BENOIT - LYDIA ESTELLE HIMES
13.1O GENEVA LEONORA BENOIT - Mr. McCURRY
13.11 CLARENCE EDWARD BENOIT - ELIZABETH IVORY
13.12 OLIVER RAYMOND BENOIT - THERESA AGNES GAUGHEN
13.13 GRACE IRENE BENOIT - WILLIAM AARON WINTER