DONDANVILLE
DONTANVILLE
DONTENVILLE
THE LUDWIG DONDANVILLE FAMILY
1.0
LOUIS (LUDWIG) DONDANVILLE (1812 - 1878)
CLARA BRUMBT (1813 - 1871)
Louis Dontenville, son of Jean Michel Dontenville and Margaret Labrux, was born in the village of St. Maurice, Alsace on August 22, 1812. In the late 1820s he entered military service and was likely involved in the Revolution of July 1830 when the French people revolted against King Charles X. It was the custom at the time that young men who spent 12 years in service were granted a separation allowance sufficient to purchase land and a home.

Louis was granted unlimited leave by the Lieutenant Commander of the 5th Division in order to marry Claire Brumbt, daughter of the deceased Francois-Joseph Brumbt, a local revenue officer, and Catherine Marcot of Neuve Eglise. They were married in the church of St. Alphonse in Neuve Eglise on November 5, 1839. Although she was known as Clara during her latter life, publication of their marriage banns listed her name as Marie-Claire and the marriage license also listed the spelling as Claire.

In October 1845 Claire's younger sister Marie Jacobee, would marry another Louis Dontenvill, a son of Xavier Dontenvill from Hirtzelbach, and a distant cousin of the Louis who had married Claire.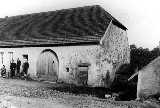 It is probable that Louis never returned to active military service following his marriage in 1839. He and Claire established their home in a small house that still stands on Rue de Eglise in St. Maurice. Louis worked as a vigneron , as did his father. Their first son Joseph was born on December 29, 1840. Five additional children: Wallace, March 30, 1842; Mary Ann, February 7, 1843; Frances, April 29, 1845; Louis, February 3, 1847; and Daniel, July 13, 1849 were born in St. Maurice before the family immigrated to the United States. A seventh was born in America.

The Revolution of 1848 led to the overthrow of King Louis Philippe and formation of the Second French Republic. Times remained uncertain both politically and economically for the working class in Alsace. In mid September 1850 Louis and Clara packed all of their earthly belongings and their six small children in a covered wagon and with an old gray horse set out for the Port of Le Harve, a distance of more than 300 miles.

At Le Harve they sold the horse and wagon and on September 25 set sail for America aboard the ship Danube under the command of Captain John Chase. There were 279 passengers aboard the Danube. Most were from German states. The country to which the Dontenville family severally belonged was recorded on the ship's list of passengers as Prussia and the family name was recorded as Danteville.

The sailing vessel arrived at New York on October 16, 1850 making the trip in 21 days, a most remarkable feat for those times and crafts. From New York they continued their journey by way of the Erie Canal to Buffalo and by ship through the Great Lakes to Chicago. The older children remembered Chicago to be a muddy swampy place with its immediate surrounding covered with tall grass.

They traveled by train to Aurora, the end of the railway line. From Aurora the family was conducted to Northville in LaSalle County in wagons drawn by oxen. There they ended their long journey at the home of the Antoine family who had arrived a few years earlier from the village of Nueve Eglise. A seventh child, Josephine, was born on April 9. 1852, two years after their arrival in Illinois. The birth of an eighth child that died at infancy was not recorded.

By 1860 the family had moved to Serena Township. Wallace, Louis, Daniel and Josephine were living at home with their parents. The oldest boy Joseph had departed for the gold fields in Colorado in 1859. The two older girls were living on nearby farms where they were employed as servants. Some how during the naturalization process the family name was Anglicized to Dondanville.

By 1870, with financial assistance from the two younger sons who were working as laborers on the farms of others. The Dondanville family acquired 117 acres of farm land, the east one half of the northeast one-quarter of Section 14; and that part of the west half of the northwest one-quarter of Section 13 lying west of what is now County Route 2. There the three younger children lived with their parents until their marriages.

In 1871 Germany gained control of Alsace. Louis, by now using the name Ludwig was concerned for the family of his brother Michael. Following the death of Clara on March 18, 1871, Ludwig returned to the village of St. Maurice. When he came back to the United States his brother's two oldest sons accompanied him. Ludwig died on March 18, 1878. Ludwig and Clara are buried in St. John The Baptist Cemetery in Somonauk, Illinois.



1.1 JOSEPH DONDANVILLE - MARY ELIZABETH BEAL
1.2 WALLACE DONDANVILLE - ELIZABETH SHERMAN
1.3 MARY ANN DONDANVILLE - LESTER BENOIT
1.4 FRANCE DONDANVILLE - CHARLES CHALUS
1.5 LOUIS DONDANVILLE - JEANETTE BEARDSLEY
1.6 DANIEL DONDANVILLE - MARY ELLEN DE BOLT