DONDANVILLE
DONTANVILLE
DONTENVILLE
1.2
WALLACE DONDANVILLE (1842 - 1925)
ELIZABETH SHERMAN (1850 - 1934)

Wallace Dondanville, the second son of Ludwig Dontenville and Clara Brumpt, was born in St. Maurice, Alsace on March 30, 1842. He was baptized as Aloysius. He immigrated to La Salle County Illinois with his parents in 1850. The family lived first in Northville and settled eventually in Serena Township. He received his education in the public schools and through reading and research in his leisure hours.

He found his first employment as a farm hand with a family named Barnes. Because they could not pronounce his baptismal name, he soon became known as Wallace. In 1859 at the age of 17, he headed to the Colorado Gold fields with his brother Joseph but for some reason turned back after reaching Kansas. Wallace became a U.S. citizen in the court of La Salle County, Illinois on March 29, 1866. He continued to work as a farm laborer and acquired his first eighty-acre parcel of land, the east one-half of the southwest quarter of Section Eleven in Serena Township in November 1869 from Mary and John Montgomery in consideration of the sum of three hundred dollars.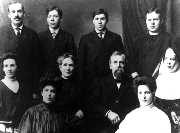 Elizabeth Sherman, the third of eleven children of Stephen Henry Sherman and Louise Hookert Guhn was born on January 14, 1850 at the Sherman farm in Northville Township two miles south east of Somonauk, Illinois. Her father had immigrated from Prussia in 1837 and her mother from Alsace. At the time the nearest Catholic church was in Ottawa and her parents took her there to be baptized. Elizabeth was 16 years old in 1866 when she helped her mother prepare for the first mass in the original frame building of St. John The Baptist Church in Somonauk. This instilled in her a deep devotion to her religion and her church. She became a member of the first Altar and Rosary Society.

On January 31, 1870, Wallace Dondanville and Elizabeth Sherman were married in St. John The Baptist Church. They moved to the farm he had purchased the November before ten miles south of Somonauk. There they raised eight children. Edward Louis, born on December 23, 1870; Caroline, May 13, 1872; Leonora, February 25, 1874; Mary Louise, December 4, 1875; Martin Sherman, June 18, 1878; Anne Elizabeth, February 22, 1881; Leone Catherine, October 29, 1884; Leo Joseph, March 21, 1890; and Laurence Aloysius, July 7, 1892. A ninth, Leona, died in infancy in 1874.

Wallace acquired an additional forty acres of land, the southeast quarter of the south east quarter of Section Ten in Serena Township from Eliza and Eveline Beardsley for $2,640 in September 1875 and his final forty acres, the north one half of the west one half of the south west quarter of Section Eleven, adjacent to his initial holding, from Adeline Stauffer Murphy heir to Nicholas Stauffer in December 1863 for $2,350.

As the farm grew Wallace rebuilt and improved the house. He built a barn and corn cribs and set out fruit trees. A small school house was constructed across the road from the Dondanville home and there the younger children of Wallace and Elizabeth and his brothers Daniel and Louis received their primary education.

Throughout his life Wallace was active in political and community affairs. He served as constable and township collector and was a member of the school board for thirty three years. He was highway commissioner for twelve years and for two years was assessor. For eighteen years he was surveyor of the Mutual Insurance Company for Serena Township. He was a delegate to county and congressional democratic conventions and was elected a delegate to several State conventions.

Wallace and Elizabeth retired from farming in 1920 and moved, with their daughter Anne , to a home they had purchased in Somonauk . On January 21, 1920 they commemorated their Fiftieth Wedding Anniversary, with their children and guests, with a Solemn High Mass at St. John's Church. They departed shortly thereafter by train for a two-month vacation trip to California. It is very probable that they visited Wallace's cousins in Pasadena and San Gabriel on that trip.

Following their return from California, Wallace settled down in Somonauk to the life of a gentleman farmer. He maintained his own vegetable garden. He grew his own grapes and made his own wine in empty casks for sacramental wine that Father Ed provided to him regularly. Wallace died April 22, 1925 and Elizabeth June 29, 1934. Both are buried in St. John the Baptist Cemetery in Somonauk Illinois.



12.2 CAROLINE DONDANVILLE , ( SISTER MARY ISABEL )
12.4 MARY ELANOR DONDANVILLE - JOHN HENRY MEYER
12.5 MARTIN SHERMAN DONDANVILLE - FLORENCE LANGAN
12.6 ANNE ELIZABETH DONDANVILLE
12.7 LEONE CATHERINEDONDANVILLE - LESTER JAMES KERNS
12.8 LEO JOSEPH DONDANVILLE - LILLIAN SULLIVAN