DONDANVILLE
DONTANVILLE
DONTENVILLE
12.7
LEONE CATHERINE DONDANVILLE (1884-1967)
LESTER JAMES KERNS (1881-1961)

Leone Catherine Dondanville, the seventh child of Wallace Dondanville and Elizabeth Sherman was born on the family farm in Serena Township, LaSalle County, Illinois on June 18,1878. She attended primary school in Serena Township and high school at St .Xavier's Academy in Ottawa, Illinois. Upon graduation she lived at home helping her mother and sister Ann with women's work on the family farm.
On summer weekends young people in the area frequented Glen Park Resort on the Fox River in Sheridan. There was boating , swimming and in the evening, dancing to the tunes of the Gualano Orchestra. It was here on a Sunday afternoon in 1908 or 1909 that Leone, and her school friend Mae Antoine, met the Kerns twins from Ophir Township. Lester James Kerns began courting Leone. After finishing his evening chores, he would drive the fifteen miles to the Dondanville farm. The trip took nearly two hours and, after the horse learned the route, he would sleep in the back of the wagon on the way home often arriving just in time for morning chores.
On June 1, 1911, Leone Dondanville and Lester Kerns were married in St. John The Baptist Catholic Church in Somonauk, Illinois. Her sister Ann and Lester's twin brother Levi were in attendance. Levi married Mae Antoine in 1913 and thus Leone, the granddaughter of Ludwig and Clara Dontenville, became the sister-in-law of Mae, the granddaughter of Lawrence and Catherine Antoine who had taken the Dontenville's into their home in Northfield Township when they had arrived in America from Alsace sixty years earlier.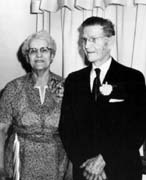 Leone and Lester settled on the Kerns homestead, ten miles south east of Mendota, Illinois, in Ophir Township. Their four sons were born there: Edward Aloysius on July 1, 1912; Paul Francis May 10, 1915; Louis John May 6, 1917; and Robert Martin on November 11, 1921. In 1939 Leone and Lester retired from farming and moved to Mendota.
In Mendota, Lester served for many years on the District 231 School Board. He was custodian at Mendota High school for a few years and then worked at the grain elevator. On June 1, 1961 they celebrated their 50th wedding anniversary. Lester died November 10, 1961. Leone followed him in death on October 15, 1967. They are buried in Holy Cross Cemetery, Mendota.
127.1 Edward Aloysius, 1912 - 2001
married in Marseilles, Illinois , April 30, 1938 to Helen Landers; two children, Marilyn Ann, '40; and Martin Edward, '54.
127.2 Paul Francis , May 10, 1915
married in Dimmick, Illinois, June 28, 1941 to Camille Fitzgerald; six children, Thomas Paul, '42; Ann E., '44; Michael Vincent, '48; Margaret Mary, '51; boy baby, '53; and Richard Pierre, '56.
127.3 Louis John,1917 - 1999
married in LaSalle, Illinois , October 11, 1941 to Hildegard Wernsman; two children, Louis John Jr, '42; and Kevin Henry, '58.
127.4 Robert Martin , November 11, 1921
married in Mendota, September 11, 1943 to Aileen M. Scott; two children, Robert Martin Jr, '52; and Gloria Yvonne, '45.