DONDANVILLE
DONTANVILLE
DONTENVILLE
12.5
MARTIN SHERMAN DONDANVILLE (1878-1967)
FLORENCE EDITH LANGAN (1879-1970)

Martin Sherman Dondanville, the fifth child of Wallace Dondanville and Elizabeth Sherman was born on the family farm in Serena Township, LaSalle County, Illinois on June 18,1878. He attended high school at St. Mary's College, Kansas, graduating in 1896. He graduated from Niagara University, N.Y. in 1900 and received the degree of Doctor of Medicine from Rush Medical College, Chicago in 1904.

Martin received his license to practice medicine in Illinois in 1904 and interned for a year at St. Joseph's Hospital in Chicago. He established a practice of medicine in Moline, Illinois in 1905, opening an office in the Kimball Building at 15th Street and 4th Avenue. In 1927 his brother Laurence joined the practice and they moved the office to the First National Bank Building at 15th Street and 5th Avenue.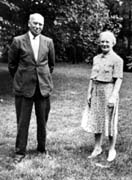 Martin married Florence Edith Langan, daughter of Dr. Daniel Langan of Clinton, Iowa on June 18, 1913 in St. Mary's Catholic Church, Clinton. They established their home at 925 17th Street in Moline. A son, Jean Langan, was born on November 22, 1917. It is believed that Jean may have been delivered at Saint Joseph's Hospital in Chicago because of his parents deep concern over the loss of an earlier son, George who was delivered stillborn at home some time in 1914 or '15. A second surviving son, Joseph Martin, was born in Moline on June 18, 1919.

While he was generally known as "M.S." he was called "Dandy" by his wife -- a nickname he earned when he played fullback for the University of Chicago football team during his first year in medical school.

M.S. was on the staffs of Moline Public and Lutheran Hospitals in Moline and St. Anthony,s Hospital in Rock Island. He was Chief of Staff for a time and taught surgery at Moline Public Hospital. He served as a Division Surgeon for the Chicago, Rock Island and Pacific Railroad and Resident Surgeon for the Chicago, Burlington and Quincy Railroad. He was a member of the Rock Island County, Illinois, and American Medical Associations. He was a trustee of St. Mary's Parish in Moline and a Fourth Degree member of the Knights of Columbus.

M.S. retired from the practice of medicine in 1948. He and Florence remained in their home in Moline until the summer of 1962 when they moved to Alton, Illinois to be near their son Joseph and his family. M.S. died on September 13, 1967 in Alton. Florence continued to live in Alton until her death on October 30,1970. Both are buried in the Langan family mausoleum in St. Mary's Cemetery, Clinton, Iowa.
125.1 Jean Langan, 1917 - 1967
married in Moline, Illinois, January 2, 1945 to Lydia Stanfeld; two sons, George, '50; and Gerald, '53.
125.2 Joseph Martin, 1919 - 2001
married in Davenport, Iowa, September 15, 1942 to Lorelie Catherine Stien; nine children, Anne Marie, '43; Judith Ellen, '44; Sharon Louise, '47; Susan Isabel, '48; Michael Pierre, '49; William Martin, '51; Mary Elizabeth (Lisa), '55; Joseph Edward, '56; and Sara Jane, '58.