DONDANVILLE
DONTANVILLE
DONTENVILLE
1.5
LOUIS DONDANVILLE (1847 - 1927)
JANETTE MAY BEARDSLEY (1856 - 1951)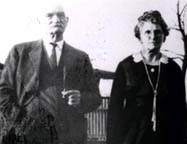 Louis Dondanville was born in St. Maurice, Alsace on February 3, 1847, the fifth child of Ludwig Dontenville and Clara Brumt. He came to the United States with his parents in 1850 at the age of three. He lived his early years with his parents in Serena Township working as a farm hand. He married Janette May Beardsley of Serena on November 16, 1874.
Louis and Janette established their home on the west 58 acres of the farm in Serena Township that Louis and his younger brother Daniel had established with their father. In 1876 their first son Clarence was born in Somonauk, Illinois. Clarence died at age one month, nine days. A second son, Carroll Ashton, was born in Somonauk on August 13, 1878. Twins Vernon Royal and Vinton Loyal were born in Sheridan, Illinois on April 16, 1879.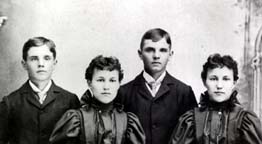 During the late 1870s a cousin Alexius, who had come temporarily to the United States from Alsace to avoid the aftermath of the Franco-Prussian War, was living with Louis and his family and helping them work their farm. A fifth child. a daughter, Louella Fayette , was born in Sheridan on April 6. 1883. A son Russell , born on December 20, 1893 .
Louis gave up the farm in 1895 and moved his family to a home in Sheridan where he worked as a carpenter and the family eventually established a hotel and boarding house. The youngest son, Russell, died in 1903 in Sheridan at age 10 as the result of a fire works accident.
In recalling her grandfather during his later years, Gertrude Dondanville Nickell wrote - " Grandfather looked like a typical Frenchman. He was small, with white hair, and a white moustache, and was very nice looking. I don't think he was overly energetic, or at least I don't remember him doing too much. He always raised a big garden but grandmother seemed to do everything else.
"When ever we went down there he always had time to swing on the garden swing with us or take us down to the Fox River and put us in his boat and go fishing. He was a very pleasant person with a twinkle in his eye and I don't remember his saying much in a controversial way. I think my grandmother was the dominant one in the family."
Following two years' illness, Louis died in Sheridan on January 1, 1927 at the age of 79. Janette died in 1951, four months before her 96th birthday. Both are buried in the Sheridan Cemetery.
15.2 CARROLL A. DONDANVILLE - PHEBE TUCKER RAWLING
15.3 VERNON ROYAL DONDANVILLE - LUCILLE STEVENS
15.4 VINTON LOYAL DONDANVILLE - ELIZA BERNARD
15.5 LOUELLA FAYETTE DONDANVILLE- ARTHUR A. MUTCHMOR