DONDANVILLE
DONTANVILLE
DONTENVILLE
15.2
CARROLL ASHTON DONDANVILLE (1878-1962)
PHEBE TUCKER RAWLING (1870-1929)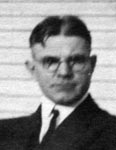 Carroll Dondanville, the second of of six children of Louis Dondanville and Janette May Beardsley, was born in Somonauk, Illinois in 1878. He was raised in Sheridan, Illinois and attended the local schools. Carroll was better known to his family and friends as Carl.
On June 6, 1901, Carroll married Phebe Tucker Rawling, the widow of William Rawling of Harding, Illinois. Phoebe's daughter Annette Rawling was eleven years old at the time of the marriage.The family moved to La Grange, Illinois where Carroll worked initially in a grocery store. They lived in an apartment above the store. Two daughters were born to their marriage in LaGrange, Gertrude Janette on October 12, 1903, and Mildred Merle on October 25, 1905. Carroll eventually went to work as a Pullman conductor on the Pennsylvania Railroad and the family moved to a larger apartment on the north side of LaGrange.

The job with the railroad required Carroll to frequently be away from home for several days at a time. Living in LaGrange was not convenient for either his family or his job. On Easter Monday, 1906 the family moved to Chicago into a second floor apartment on Kimball Avenue just off of Fullerton Avenue in the Logan Square neighborhood .
Phebe was a devoted mother and made sure that her three daughters took full advantage of inner city living, exposing them to such activities as a Billy Sunday Revival , the Buffalo Bill Wild West Show , and weekly programs of the Sunday Evening Club at the Civic Auditorium. Gertrude and Merle took dance lessons and Annette sang in the neighborhood Presbyterian Church Choir. It was at a church social that Annette met Stuart Watson , the young man who became like a brother to her sisters, and would eventually become her husband.
The influenza epidemic during World War I hit the entire family with the exception of Gertrude who , tended to her parents and sisters through their illness, with Stuart's help Although he was 40 years of age, Carroll was drafted into the Army in late 1918 and was ordered to report on the day the Armistice was signed. He was never activated. Shortly after the war the family acquired their first automobile, a Model T Ford coupe. The automobile was Carroll's prized possession. He kept it in a garage on Thornton Street, over four blocks from their apartment, and it was meticulously maintained. All of the girls received instructions on care of the vehicle in short order.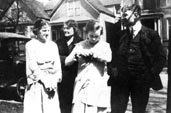 The trip to to visit their grandparents no longer had to be made by train. The family would leave Chicago early on a Saturday morning with three in the front seat and Stuart and two of the girls sitting on the floor of the open trunk with their feet dangling over the rear bumper. The 80 mile trip to Sheridan required frequent stops and they would arrive in Sheridan just in time for dinner. They would often depart early on Sunday morning for the long trip home.
About 1920, when Merle was still in high school, the family moved to an apartment at 2442 Drake Avenue on Chicago's near north side. By then Carroll had left his job with the railroad and was working as a salesman for Chicago Popcorn & Supply Company. He sold popcorn, packaged under the Dondanville name, to Lincoln Park, River View Amusement Park, other entertainment venues and retail food markets.
Phebe died on June 20, 1920 at the age of 49. She was interned at Glen Oak Cemetery in Chicago. Annette assumed responsibility for looking after her two teen age sisters. Gertrude was married in 1922 and Annette in 1923. Merle lived with Annette and Stuart for a period before her marriage in 1933. Carroll had little contact with his daughters or their families in later years. At some point he married Effie Hanlon of Chicago. The date of that marriage is not known.
Carroll died on August 2, 1953 just before his 84th birthday. He was buried at Glen Oak Cemetery next to Phebe. Effie Dondanville died at St. Paul's House in Chicago on July 20, 1984. She was interned in Arlington Cemetery in Elmhurst, Illinois.
152.0 Annette Rawling, 1890 -1988 ; married in Chicago , June 23, 1923 to Donald Stuart Watson ; one child , Donald Stuart Jr. '25.
152.1 Gertrude Janette, 1903 -1991; married Chicago, Illinois , December 22 , 1922 to James Blaine Nickell ; three children , Betty Jean , '24 ; James Merle , '26 ; and William Lynn , '28.
152.2 Mildred Merle, 1905 -1984 ; married in Chicago, Illinois, April 28 , 1934 to William Louis Hafner ; three children , William Louis Jr. '35 ; James Allen , '37 ; and Gary Stuart , '43.