DONDANVILLE
DONTANVILLE
DONTENVILLE
2.6
EMILE DONDANVILLE (1862 - 1938)
MARIE SCHUMACHER (1868 - 1937)

Emile Dondanville, the sixth child of Michel Dontenville and Marie Anne Duffner, was born in St. Maurice, Alsace on February 17, 1862. In 1879 he followed his older brothers to the United States. He arrived at the Port of New York, from Le Havre, aboard the S.S. Canada, on February 4, just two weeks before his 17th birthday. He declared his occupation, to immigration authorities, as shoemaker. By the 1880 Census he was employed as a laborer on the farm of Henry and Margaret Hagie in Grand Rapids Township, LaSalle County, Illinois. While in Illinois, Emile changed his name to Dondanville, the spelling that had been adopted by his uncle and cousins.

Marie Schumacher was born in Bergheim, Alsace in 1867. While her death certificate lists her date of birth as September 8th, records in Alsace record it to be October 6th. She was the third of seven, or possibly eight, children of Joseph Schumacher and Francoise Lisz. Her death certificate records that she arrived in the United States in 1885. A record of her entry has not been found. It is known that she came to Illinois, and it is believed that she was traveling alone.

Emile's descendants believed that he met Marie Schumacher aboard ship reroute to the United States. If this were correct, then Emile would have gone back to Alsace sometime after the 1880 census and returned on the ship with Marie. More probably, they met in LaSalle County in the mid 1880s after her arrival. It is believed that Emile and Marie were married in LaSalle County, Illinois on May 19, 1887.Their first son, Almond, was born there on January 18, 1888.

In late 1888 Emile and Marie followed Emile's brother Wallace to Southern California. Emile had been granted a homestead, adjacent to that of his brother, in the Santa Clarita Valley north of Newhall in the area that is now Saugus. A second son, Joseph, was born in Pasadena in 1889, shortly after the family arrived from Illinois, and while they were preparing for the move to the homestead. Two additional sons were born at Newhall, Edward August in 1891; and Carl J. in 1893.

When the family moved to Newhall it was with full intent to make it their permanent home. Emile had planed to establish vineyards similar to those near his village in Alsace. With rapid development of the valley and a few drought years, water soon became a problem. First the spring dried up, next the creek, and finally the wells. Sometime in 1894 the family moved to San Gabriel.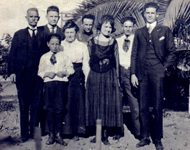 In San Gabriel Emile found work with the Rudel family at their winery. The Rudel Winery was about one and one-half miles northeast of Mission San Gabriel. The Dondanville Boys found new friends in the Rudel children. Millie Rudel was just a year older than Almond. Walter and Eddie Rudel were about the same ages as Joe and Ed Dondanville. A fifth Dondanville child, a daughter, Mary Magdalen, was born in 1896.

In the late 1890s Emile purchased land to the southeast of San Gabriel Mission along the road that is now East Mission Drive. There was a small house, a barn, and two small out buildings on the property. Emile added to the house as the family grew. Three additional children were born after the move: Fred in 1898; Louie in 1901; and Theodore in 1910.

In the early 1900s San Gabriel was sparsely populated. Businesses were principally along Mission Drive near the Mission. Many of the businesses were saloons catering to the hands who worked on the large cattle ranches in outlying areas to the east of town. Joe recalled watching cowboys riding down Mission Drive yelling and shooting their guns in the air as they returned to the ranches

Emile and Marie's home in San Gabriel became the focal point of Dondanville family life for over four decades. Their children grew up there. They attended school, and were married, at San Gabriel Mission. When there were large family gatherings, Emile would send his boys up the road to one of the saloons for buckets of beer. It was not unusual to have to make the trip several times.

The land was planted with vegetables gardens, fruit trees and walnut trees. Emile took great pride in the fruits of his labor. He sold his farm products from a roadside stand near the house. In addition to various vegetables fruits and nuts his farm produced honey and its own wine. This enterprise continued into 1930.

Emile sold off parcels of land over the years, and by 1930 there were about ten acres remaining. The remaining land was eventually subdivided into 20 lots that were parceled out to his children and grandchildren. Marie died March 28, 1937 and Emile on October 14, 1938. Both are buried at San Gabriel Mission near their son Carl who predeceased them.

26.1 ALMOND J. DONDANVILLE - CATHERINE Unknown
26.2 JOSEPH FRANCISCO DONDANVILLE - ANNE LEAHY
26.3 EDWARD A. DONDANVILLE - LEONA CHEESMAN
26.4 CARL J. DONDANVILLE - Died at age 27
26.5 MARY DONDANVILLE - WILLIAM BROOKS/PETER YAUN
26.6 FREDERICK HENRY DONDANVILLE - EILEEN REGINA CONDON
26.7 LOUIS JOHN DONDANVILLE - NORMA MAE BOE
26.8 THEODORE WILLIAM DONDANVILLE - ELEANOR EVA POHL