DONDANVILLE
DONTANVILLE
DONTENVILLE
59.1
FRANCOIS PAUL DONTENVILLE (1921 - 2002)
RITA EUGENIE ODILE SPIEHLER (1925 - )
Francois Paul Dontenville, the eldest of three children, and only son of Albert Dontenville and Marie Eugenie Herman, was born in Selestat, Alsace on November 8, 1921. Francois was a big man in many ways. One should not be surprised since he entered life at 16 ½ pounds. He attended schools in Selestat, Ville and Breitenbach. He did an apprenticeship as a metal toolmaker.

In December 1939 Francois' parents and sister Simone were deported by the Germans and lost forever a very successful Hotel-Restaurant business. Francois was on his way home from work in Selestat, on his bicycle, at the time. A friend intercepted him and told him his parents had just been deported. Francois Paul went into hiding and eventually joined the French Resistance forces in the region of Lourdes.

He fought with the resistance until he was wounded by shrapnel near the end of the war. The French Army 3rd. RAC attempted to award him numerous decorations for his courage and valor. He declined them all as he was appalled by all of the "Johnny-come-lately's seeking gold medals.

After the war the family returned to Chatenois and entered the restaurant business again. There, Francois met Rita Eugenie Odile Spiehler from Scherwiller. They were married on April 8, 1947 in Chatenois. Francois and Rita moved to Scherwiller to live with her parents. It was there that their son Aimar was born on February 11, 1948. Marie Joelle Josephine Elisabeth was born May 3 1956. A second daughter Carole Simone was born August 28, 1960.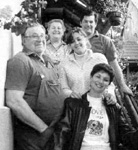 Francois drove a long haul timber truck until he fell and fractured his lower vertebrae. The family then moved to Semersheim, which is about ten miles from Scherwiller. He worked for Alcatel, a heavy machinery factory, as maintenance supervisor for machine repairs. For twelve years he also drove the company bus transporting employees to and from work. A botched cataract surgery left him blind in his left eye. He left Alcatel to work for GM for twelve years.

In 1970 when Rita's father died, Francois, Rita, and their family, moved back to Scherwiller to live in her parent's house on their wine farm. Francois worked the farm and continued his job at Gm until he retired at age sixty-five. After that he split the farm between the three children, sold part of it and leased the rest. Rita and Francois enjoyed a number of good years before her health began to fail in the late 1990s. Joelle has been her principal caregiver. Francois died on April 19, 2002. Rita continues to live in her home in Scherwiller.

591.1 Aimar Francois Dontenville, 1948-
graduated from Chef's School and worked at the Eiffel Tower Restaurant in Paris. Served in the French Navy. In the late 1960s he joined the Merchant Marine and worked on the S.S. France. Immigrated to the United States in 1970, Married Brenda Lee Smith in 1975 and divorced in 1978. Moved to Fort Lauderdale, Florida, 1975 and worked in several restaurants. Following receipt of his citizenship joined the Ft. Lauderdale Police Department for two and one half years and later as an undercover narcotics officer with the Marin County Sheriff's Department. In the early 1980s Aimar joined Swiss Chalet fine foods as a salesman for Broward County. He has been a principal contributor to Dontenville Family research.

591.2 Marie Joelle Dontenville, 1956-
married Jean Paul Trajin. They live in Strasbourg where Joelle works as an assistant pharmacist. Jean Paul is retired.

591.3 Carole Simone Dontenville, 1960 -
married William Guy Culverhouse on June 6, 1985. Daughter, Nicole Elizabeth, born March 3, 1997. They live in Broward County, Florida where Guy is a maintenance engineer with the Broward Convention Center.