DONDANVILLE
DONTANVILLE
DONTENVILLE
5.9
ALBERT DONTENVILLE (1883 - 1964)
MARIE EUGENIE HERRMANN (1890 - 1964)

Albert Dontenville, the eleventh of twelve children of Gregoire Dontenville and Madeleine Freppel, was born in Breitenbach, Alsace on September 3, 1883. When Albert had finished his schooling, he joined with his older brothers to help their father in the family bakery and grocery business. At the time World War I began, Albert was 30 years of age. Those were alarming times as the German Army conscripted thousands of young Alsatians to fight on the Eastern Front. Albert was among them. Against his will he was sent off for basic training. Upon completion of training he was given liberty. He departed for home with his pack and his weapon never to be seen again in a German uniform. That made him a deserter and would cost him dearly later when the Germans returned to Alsace in 1939.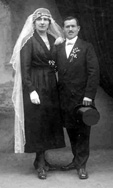 On November 19, 1920 Albert married Marie-Eugenie Herrmann, daughter of Joseph Henri and Augustine Herrmann of Breitenbach. They moved to Selestat where Eugenie became governess for Senator Lazare Willer's family and Albert became their chauffeur. Three children were born during that period. Francois Paul was born on November 8, 1921and Simone Annette on April 13, 1928. Their third child, Annie Albertine died at birth on September 7, 1933.

Albert and Eugenie left their positions with the Willer family to purchase L'hotel Restaurant Des Voyageurs. The business was financially successful. They entrusted their money to a " Notaire" who absconded with their, and others, savings. That drove Albert to a state of serious depression. He spent some time in Rouffack Asylum. Alone with their children Eugenie was unable to keep the business running and found it necessary to sell it. She moved back to Breitenbach to be close to the support of her family.

When Albert was back in good health, and reestablished, they leased L'hotel Bastien in Ville. Eugenie was a fantastic cook and soon things were going well. Again the money came in generously. The family moved to Chatenois and purchased a Hotel-Restaurant. All went well until the Germans returned in 1939. Being a deserter of the German army, the Gestapo sought out Albert the first week of their occupation. Albert lost it and cracked a bottle over the Gestapo officer's head. The officer reached for his gun and was going to shoot Albert. The short in stature, 5 ft 3 inch Albert must have appeared to be a lunatic to the officer. Eugenie, who was six feet tall, grabbed the officer's wrist with a firm hand and asked for pity on her husband. The family was given 15 minutes to pack what they could carry and loaded aboard a truck with no forwarding address.

On his way home from work in Selestat, on his bicycle, a friend who told him his parents had just been deported stopped Francois. Francois Paul went into hiding and eventually ended up with French Resistance forces in the region of Lourdes, in the center of France. One day, on a destruction raid, he ran into his father who was going from farm to farm looking for food and for work.

The family returned to Chatenois in 1945, destitute and with never a penny of compensation. They operated L'hotel des Voges for a while then opened the restaurant "la Vignette" which is still operated today by a great grandchild. Francois married Rita Eugenie Odile Spiehler on April 8, 1947, and eventually moved to Scherwiller. Simone married Charles Felden on 3, November 1953 and remained in Chatenois. Marie Eugenie died August 16, 1964. Albert died on October 9 in that same year. Simone Dontenville Felden, died at age 36, in 1965.

59.1 FRANCOIS PAUL DONTENVILLE - RITA EUGENIE ODILE SPIEHLER
59.2 SIMONE ANNETTE DONTENVILLE - CHARLES FELDEN
59.3 ANNIE ALBERTINE DONTENVILLE Died at Birth