DONDANVILLE
DONTANVILLE
DONTENVILLE
THE GREGOIRE DONTENVILLE FAMILY
5.0
GREGOIRE DONTENVILLE (1840 - 1908)
MADELEINE FREPPEL (1840 - 1902 )

Gregoire Dontenville, youngest of the nine known children of Sebastien Dontenville and Marie-Anne Heinrich, was born in Thanville on March 10, 1840. Gregoire's grandfather was Francois Dontenville, an older brother of Simon Jude. As a young man, it is likely that Gregoire worked in his father's restaurant, bakery and grocery in Thanville. Gregoire married Madeleine Freppel of Maisongoutte on May 19, 1864. Gregoire and Madeleine established their home in Breitenbach and opened a bakery and grocery store there.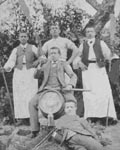 Twelve children were born to their marriage. Marie-Eugenie, born February 22, 1865, died at birth. Eugene, born May 29, 1866, married Rosalie Bohn. A second daughter Marie-Eugenie was born on February 25, 1868. She married Hippolyte Fahrer, a wine farmer from Orchwiller, on April 11, 1899. Josephine, born November 15, 1869, married Joseph Herrmann, who served for many years as mayor of Breitenbach. Joseph Constantin was born May 7, 1872. He married Marie Martin. Many of their descendants continue to live in Breitenbach.

The sixth child, Edmond-Celeste was born November 20, 1874. Edmond-Celeste married Miss Leoni. They established their home in Selestat where three children were born. Marie Celestine, born May 31,1876, married Henri Laemlin of Kinzheim. Marie-Emma, born May 29, 1878, married George Koenig. Nicolas Emil, who was born December 6, 1879, immigrated to the United States, arriving in New York City on October 7, 1908. He married Marie Gigler. Descendants of their son Emil live today in the Cleveland Area.

Louis Auguste, the tenth child, was born August 24, 1881. He married Marie Emilie Laemlin and remained in Breitenbach where three sons and a daughter were born. The eleventh child, Albert, was born September 3,1833. He marred Marie-Eugenie Herrmann. Two of their grandchildren, Aimar and Carole, immigrated to the United States. Gregoire and Madeleine's youngest child, Alphonse-Joseph, born March 20, 1886, died that same year. Madeleine died December 26, 1902 in Breitenbach. Gregoire died April 2, 1908.

5.1a MARIE EUGENIE DONTENVILLE Died in Infancy
5.1b EUGENE DONTENVILLE - ROSALIE BOHN
5.1c MARIE EUGENIE DONTENVILLE - HIPPOLYTE FAHRER
5.2 JOSEPHINE DONTENVILLE - JOSEPH HERRMANN
5.3 JOSEPH CONSTANTIN DONTENVILLE - MARIE MARTIN
5.4 EDMOND CELESTE DONTENVILLE - LEONI Unknown
5.5 MARIE-CELESTINE DONTENVILLE - LOUIS HENRI LAEMLIN
5.6 MARIE-EMMA DONTENVILLE - EUGENE KOENIG
5.7 NICOLAS EMILE DONTENVILLE - MARY GIGLER
5.8 LOUIS AUGUSTE DONTENVILLE - MARIE EMILIE LAEMLIN
5.9 ALBERT DONTENVILLE - - MARIE EUGENIE HERRMANN
5.10 ALPHONSE-JOSEPH DONTENVILLE Died in infancy