DONDANVILLE
DONTANVILLE
DONTENVILLE
2.4
ALPHONSE DONTENVILLE (1857 - 1914)
MARY MAGDALENE SCHURRA (1860 - 1899)
Alphonse Dontenville, the fourth child of Michel Dontenville and Marie Anne Duffner, was born in Alsace in 1857. Following the Franco-Prussian War, Alphonse came to the United States. He arrived at the Port of New York aboard the Ship Minnesota, on July 9, 1873. He was 16 years old. The ship had sailed from Liverpool stopping at a French Port in route to New York. The 1880 Census found him working as a laborer on the farm of John and Catherine Zimmerman in Rutland Township, LaSalle County, Illinois.

Alphonse remained in the United States for 12 years, accumulating sufficient capital to return to Alsace and establish a business raising flax and processing the fiber. The fiber was sold to the linen mills at the market in Liepvre. He married Mary Madeleine Schurra from St. Peter-Holtz in the mid 1880's. They remained in St. Maurice, eventually moving into the house on Rue de Eglise where Alphonse was born, and raising their family there.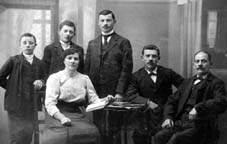 There were seven children. Anne Agathe, born in 1887, died at fourteen months in1888. Aloysius Georg was born in 1888; Ernest Joseph, in 1890; Odile, 1891; Bernard Maurice, 1893; Auguste Leo, 1895; and Cyril Valentine in 1898. Mary Madeleine died when the children were young. Odile, at an early age, assumed many of the responsibilities to raise her brothers and keep her father's house.

On August 18, 1914, shortly after Germany declared war on France, the German garrison in the Valley, convinced that some of the citizens of St. Maurice were harboring French partisans, set fire to the village. Believing that his home was about to be engulfed by the flames, Alphonse returned to the house to retrieve some of his belongings. He was shot in the stomach and made his way into the garden. He was found there by his family and was taken to the cellar of the house next door. He died there the next day, August 19th. Alphonse was buried in the cemetery of St. Maurice with three other men who died during that incident.

The oldest son, Aloysius, and his brother Auguste, were killed serving in the German Army during World War I. Bernard died in 1908 at the age of 15. Ernest Joseph and Cyril immigrated to the United States. Odile remained in St. Maurice.

24.1 ALOYSIUS GEORG DONTENVILLE - killed in World War 1
24.2 ERNEST JOSEPH DONTANVILLE - MAMIE HARKINS
24.3 ODILE MARIE DONTENVILLE -EMILE LEO DONTENVILLE
24.4 BERNARD MAURICE DONTENVILLE - died at age 5
24.5 AUGUST LEO DONTENVILLE - killed in World War 1
24.6 CYRIL VALENTINE DONTANVILLE - ALPHONSINE AMSTET