DONDANVILLE
DONTANVILLE
DONTENVILLE
24.3
ODILE DONTENVILLE (1891-1971)
EMIL LEO DONTENVILLE (1889-1966)

Odile the third child and only daughter of Alphonse Dontenville and Mary Magdalene Schurra, was born in Saint Maurice, Alsace on December 10. 1991. She was eight years old when her mother died in 1899 and at a very young age became the only woman in the household. By the end of World War I she had lost her father and two brothers to the War, another brother to a natural death, an another to the United States.
On July 19, 1919, Odile married Emil Leo Dontenville, son of Aloise Dontenville and Barbara Schneider, and a great grandson of Jean George Dontenville, her great grandfather's younger brother. Odile and Emil continued to live in Saint Maurice in the home on Rue de Eglise where she was born.Their first child, Alphonsine, was born in 1920, Auguste in 1921, Ernestiine in 1925, and Ernest in 1928.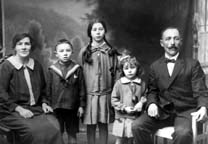 Emil was employed by Societe Chemin de Fer as a signal man on the railroad that ran between Selestat and Ville. He had been exemptrd from conscription during World War I because of his position with the railroad. Emil died on August 15, 1966 at a hospital in Strasbourg. Odile on March 21, 1971 in Selestat. Both are buried in the cemetery in Saint Maurice.
243.1 Alphonsine, May 30, 1920 - April 4, 1963
married Strasbourg, August 16, 1941 to Charles Willem; two daughters, Michelle Marie, '50; and Marianne Simone, '52.
243.2 Auguste Alphonse, July 26, 1922 - July 25, 1997
married Saint Maurice, April 29, 1949 to Paulette Marie Glock; four children, Christiane Marie '50, Francine Colette '53, Bernard Girard '56, and Rachel Claire '65.
243.3 Ernestine, November 1. 1925.
243.4 Ernest, December 17, 1928 - November 8, 1945.