DONDANVILLE
DONTANVILLE
DONTENVILLE
17.5
JOSEPH MARTIN ULRICH (1883-1970)
CATHERINE CECILIA CORRIGAN (1890-1968)

Joseph Martin, the fifth of eight children of Josephine Dondanville and Joseph Ulrich, was born in Serena Township, LaSalle County, Illinois March 30, 1883. Joseph was nine years old when the family moved to Iowa. Joseph attended school in Deer Creek Township and worked with his father on the family farm. Joseph was married to Catherine Cecile Carrigan at St. Mary's Catholic Church in Mallard, Iowa on November 4, 1914. They established their home on the farm that Joseph had purchased southeast of Ayrshire, Iowa.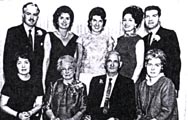 Seven children were born to Joseph and Catherine. The eldest six were born in Iowa: Alice Marie in 1915; Margaret Imelda, 1916; Eileen Elizabeth, 1918; Helen Rose, 1920; Mary Vivian in 1921; and James Edward in 1924. The children attended Sacred Heart Catholic School in Ayrshire. Joseph and Catherine were active members of the parish.
The family gave up the farm in the early 1930 and moved to Lake Wilson, Minnesota. Their seventh child, John Joseph, was born in 1935. The family lived in Lake Wilson and also Mallard, Iowa, before retiring and moving to Los Alamitos, California. Catherine died April 16,1968 and Joseph on August 2, 1970. Both are buried in Holy Cross Cemetery in Los Angeles, California.
175.1 Alice Marie Ulrich (1915- )
born in Ayrshire, Iowa, 1915, remained in Iowa, married briefly to Richard Law and on July 17, 1950 married James A. Sorensen in Northwood, Iowa, no children.

175.2 Margaret Imelda Ulrich (1916- )
born in Ayrshire, Iowa, 1916, married to Stanley Kelly in Watts, California May 2, 1942, six daughters: Mary Catherine was born in San Mateo, 1943; Elizabeth Ann, in Colfax, Washington, 1944; Margaret Belinda in Merced , 1948; Colleen Louise in Merced ,1950; and twins Patricia Maureen and Therese Ellen, Fresno in 1972.

175.3 Eileen Elizabeth Ulrich (1918 - )
born in Ayrshire, Iowa, married Albert Simons in October 1943, two children: Lawrence Lee ' May 12, 1937 in Esterville, Iowa; and a daughter Jacquline, died shortly after birth in 1947 in California.Eileen married a second time to Warne Lark

175.4 Helen Rose Ulrich (1920 - )
born in Ayrshire, Iowa, She married Orville Casey. There were no children. Upon Casey's death, married Bernard Mulvihill a widower with one son.

175.5 Mary Vivian Ulrich (1921- 1984)
born in Ayrshire, Iowa, December 17, 1921, married Harold Thompson from Esterville, August 13, 1943 in Pearl River, New York, three children: Theresa Lynn; Victoria Jean; and James Gregory.