DONDANVILLE
DONTANVILLE
DONTENVILLE
16.9
LAVERN GEORGE DONDANVILLE (1892-1972)
CLARIBEL SHAVER (1885 -1922)

LaVern George Dondanville, the youngest of nine children of Daniel Dondanville and Mary Ellen DeBolt, was born on the family farm in Serena Township, LaSalle County, Illinois on August 15, 1892.
Vern moved with his parents to Blackwell, Oklahoma in 1907. Like his cousins Leo and Laurence, he attended high school at St. Mary's College, Kansas. In 1911 the family sold the farm in Oklahoma and moved to Lonepine, Montana where the parents and several of the children homesteaded on the Flathead Indian Reservation. Vern was too young to obtain a homestead until 1913 and was eventually granted a claim a quarter mile south of the Lonepine Town Center.
Claribel Shaver was born in New York State in 1885. Her family moved to Watervilet , Michigan and she attended school at the Chicago Conservatory of Music. Claribel moved to Montana with her mother in 1911. She homesteaded near Kalispell where she taught music and art. Vern Dondanville and Claribel Shaver were married in Lonepine on June 24, 1915. Their first child, Keith Edison was born on April 28, 1916. Keith died that same year. A second son, Dean Daniel, was born in 1917 and a daughter, Helen Celeste, in 1918. A third son, Wilfred Lavern, was born in 1920. Dean died on July 20, 1922. He is buried in the Lonepine Cemetery.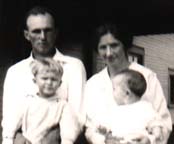 In May 1923 Lonepine celebrated the completion of a new Community Hall. During the gala dedication a gas lantern above the piano exploded, showering a rain of fire onto Clairbel Dondanville seated on the piano bench below. Clairbel died from her burns, on May 19, 1923, in Kalispell. Faced with the rigors of ranch life and two young children to rear, Vern made the difficult decision to send Helen and Bill to Ottawa, Illinois to live with his sister Ellie and her husband Dr. William Fread.
Vern temporarily abandoned ranch life late in 1923 , heading first to Los Angeles, California, where he became District Sales Manager for Eureka vacuums, and later to St. Paul, Minnesota and Waterloo, Iowa . In Waterloo, he met Faye Owen. They were married in 1931. They returned to the ranch at Lonepine in 1932. Faye did not take to ranch life and their marriage ended in divorce in 1935.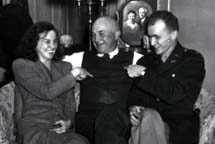 On August 4, 1944, Vern married Elsie Mero, an elementary school teacher from Kalispell, in Missoula, Montana. Over the years Vern was a member of the Nyah Grange, Western Montana Stockmen's Association, and the Flathead Irrigation Commission. Vern died in Missoula on September 28, 1972 at the age of 80. He was buried in the Murray Memorial Cemetery at Lonepine. Elsie continued to live in the area following Vern's death. She celebrated her 90th birthday on September 15, 2001.
169.1 Keith Edison , April 28, 1916 - 1916.

169.2 Dean Daniel, 1917 - 1922.

169.3 Helen Celeste , November 29, 1918
married October 20, 1945 to Harry Burdette Hindson Jr. ; three children , Harry Burdette lll '48; James William '50; and Christopher John '56; divorced 1968.
169.4 Wilfred Lavern , May 23 1920
married at West Point, New York, June 7, 1944 to Betty Jane Allen ; two children , Michael Jay '46 ; Susan Elizabeth '50.