DONDANVILLE
DONTANVILLE
DONTENVILLE
16.8
FLORENCE CLARA DONDANVILLE (1887-1988)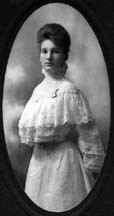 Florence Dondanville, the eighth child of Daniel Dondanville and Mary Ellen DeBolt, was born in Serena Township, LaSalle County, Illinois on August 4, 1887. She attended grade school in Serena and graduated from Sheridan High School. In 1907 Florence moved with her parents and younger brother Vern to Oklahoma. They bought a farm about ten miles from Blackwell.
Florence moved with her parents to Montana In 1911 and took up a homestead adjacent to theirs at Lonepine on the Flathead Indian Reservation. She remained in Montana, living with her parents . She worked for a brief time with her sister Nell at the Twin Bridges Childrens Home near Dillon then returned to Lonepine.
She returned to Illinois in the late 1920s when her brother Floyd arranged a job for her as a receptionist with the Illinois Commerce Commission in Chicago. With a change in administration Florence was terminated in 1932 when she refused to take the civil service examination . She moved to Ottawa and made her home with her sister Ellie and brother-in-law Dr.William P, Fread. Upon Dr. Fread's death in 1964 she moved into an apartment near the Fread home.

Florence assumed operation of a U.S. Postal Substation at the Corbus Drug Store in Ottawa in 1945. She retired from that position in October 1970. During her years in Ottawa she was active on the Board of Camp Fire Girls and in the First United Methodist Church, the Professional Women's Club, and the Ottawa Women's Club. Florence died in Ottawa on June 17, 1988, two months short of her 101st birthday. She was buried in the Ottawa Avenue Cemetery with her parents.