DONDANVILLE
DONTANVILLE
DONTENVILLE
16.6
FLOYD MERRELLE DONDANVILLE (1883-1929)
MARGUERITE WHITE

Floyd Dondanville, the sixth of nine children of Daniel Dondanville and Mary Ellen DeBolt, was born in Serena Township, LaSalle County, Illinois on June 12 1882. He attended elementary school in Serena and high school in Sheridan.
Following graduation, Floyd was employed briefly by a bank in Chicago in a position obtained for him by a boyhood friend. Tiring of the bank, he headed west, where he became interested in baseball and tried to organize his team. Tired of roaming, he returned home and announced to his father that he wanted to study medicine.
Floyd entered Hahnemann Medical College of Chicago. He graduated in May 1911. He may have done his internship at Mayo Clinic in Rochester. He commenced the practice of medicine in Dwight, Illinois in 1913. On September 12th of that year Floyd married Marguerite White of Chicago. They moved into a home on Mazon Avenue in Dwight. Two sons were born to their marriage, Robert Daniel on March 21, 1915 and Floyd Merrelle Jr. in 1917.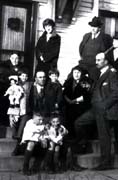 Floyd built a substantial practice in Dwight. He was a popular figure. He participated activity in the professional, business, and social life of the community. He loved sports, particularly baseball and football and often played himself.
In 1928 Floyd was operated upon for a pancreatic infection. As soon as he was able to travel, he left for California with Marguerite to recuperate, stopping in Montana en route. He returned to Dwight in the spring of 1929 to continue his practice and was told that further surgery was probably necessary. His condition continued to worsen and he died on October 20, 1929. His body was taken to Ottawa for burial in the Ottawa Avenue Cemetery.
Following Floyd's death Marguerite, or Rita as her family and friends knew her, moved with her two sons to the Rogers Park neighborhood in Chicago toi be near her parents. She worked for a time for the Merchandise National Bank. Both boys graduated from Sullivan High School in Chicago. Rita eventually married Jay Esler, a retired navy captain. Following Esler's death she moved to California where her son Robert was living. She worked as a volunteer at the San Diego Naval Hospital. Rita died in California in 1969.
166.1 Robert Daniel , 1915 -1989
married in Evanston, Illinois October 24, 1942 to Jeanne O'Donnell ; two children , son Gregory and a daughter, Barbara.
166.2 Floyd Merrelle Jr. , 1917 - 1960
married in Pedro Miguel, Panama Canal Zone, April 3rd 1947 to Donna Eve Dickson , no children.