DONDANVILLE
DONTANVILLE
DONTENVILLE
16.5
LYDA JANE DONDANVILLE (1882-1980)
JOHN HENRY BRAS (1879 - 1971)

Lyda Dondanville, the fifth of nine children of Daniel Dondanville and Mary Ellen DeBolt, was born in Serena Township, LaSalle County, Illinois on April 11, 1882. She attended the local elementary school and probably graduated from Sheridan, Illinois High School about 1900.
Lyda attended Northwestern University. She received her teaching certificate from there and returned to Serena Township to teach in the local school near the family farm attended by her youngest brother Vern and cousin Laurence. In 1908 she followed her parents to Blackwell, Oklahoma and took a position as a High School English teacher in Enid.
In Enid Lyda met John Henry Bras, who was employed by the newly established phone company. Jack, from a family of 15 children, was born on an Oklahoma farm, He was a graduate of Oklahoma Agricultural and Mechanical College.
In 1910 Jack's' brother Roy and his wife took a homestead in the Little Bitterroot Valley at Lonepine , Montana. Jack followed Roy to Montana and returned to Oklahoma to marry Lyda in Enid on December 27, 1910. The couple moved to Lonepine to establish their own homestead in February 1911. Lyda's parents followed in April.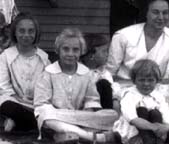 On December 24, 1911, Lyda and Jack's first daughter, Pauline Elizabeth, was born, the first white baby born on the Lonepine Section of the Flathead Indian Reservation. Their second daughter, Roberta Mary, was born on March 7, 1913. Following Roberta's birth Jack Bras accepted a position with the telephone company in Twin Bridges, Montana. Their third daughter Jeanette Jane was born in Twin Bridges on June 28, 1916.

In 1916 the family moved to Hot Springs where Jack Bras established the Flathead Mutual Telephone Company bringing the first phone service to the Little Bitterroot Valley. In 1922 the Flathead Mutual Company acquired the Hot Springs phone service. Jack continued an involvement in ranching. He managed a Seed Pea Growers Association for many years. In 1930 the phone company was sold and Jack devoted his later years to an insurance business.
Jack Bras died in 1973 at the age of 93. Lyda died in Kalispell on April 20 , 1980 at age 98. Both are buried in the Murray Memorial Cemetery in Lonepine.
165.1 Pauline Elizabeth , December 24, 1911
married in Thompson Falls, Montana,1933 to Ralph Roscoe Russell , (1905-1979 ); one daughter , Sharon Lee '35 ; married in Renton, Washington, 1983 to Elmer Albers .
165.2 Roberta Mary , March 7, 1913
married 1941 to Robert Dalke, (1906 - 1959); no children ; married on January 19th 1963 to Harold McLaughlin, (1918 -1994).
165.3 Jeanette Jane , June 28, 1916
married in Missoula, Montana, 1941 to George Joseph Marcure, (1910-1975) ; three children , George John (Jack) '42; William Robert '46 ; and Janice Jane '48 ; married in Carefree, Arizona, 1978 to Dr. Alfred Rossomando, (1910-1988).