DONDANVILLE
DONTANVILLE
DONTENVILLE
COMING TO AMERICA

In March of 1850 Louis Dontenville, a grandson of Simon Jude Dontenville and son of Jean Michael, and his wife Clara Brumpt, packed all of their earthly belongings and with six young children, four boys and two girls, departed their village of St. Maurice in Alsace for a new life in the United States. They traveled the 300 miles to the port of Le Harve by wagon.

At Le Harve Louis and his family sold the horse and wagon and boarded a sailing vessel for the 21-day trip to New York. From New York they traveled by way of the Erie Canal to Buffalo and then by ship to Chicago. The remainder of the journey was made by train from Chicago to Aurora and by wagon drawn by oxen to Northfield Township in La Salle County, Illinois.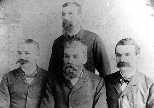 At the time of their arrival in Illinois the oldest son Joseph was ten years of age; Aloysius, who eventually changed his name to Wallace, was eight; Mary seven; Frances five; Louis three; and Daniel was one. Two additional daughters were born in the United States. Josephine in 1852, and another whose infant death was not recorded. During the process of naturalization, the name Dontenville was changed to Dondanville. Louis and Clara eventually established a farm in Serena Township where in later years Louis was referred to as Ludwig. This family is the subject of Family Index Series 1.0.

In 1871 Germany gained control of Alsace. Concerned for the family of his brother Michel, Louis, by now using the name Ludwig, returned to the village of St. Maurice. When he came back to the United States his brother's two oldest sons Alexius and Wallace, accompanied him. In the mid 1870s, Alphonse and Emile, the two younger sons of Michel, came to the United States and Wallace temporarily returned to Alsace. In 1880 Alexis, Alphonse and Emile were working as laborers on farms in LaSalle County. Alexis and Alphonse returned to Alsace by the mid 1880s.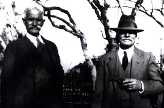 In 1880, Wallace returned to the United States as an immigrant. Following a brief stay in New York he went first to Colorado and eventually to Pasadena, California where he changed his name to Dontanville. In the mid 1880's Wallace's youngest brother Emile, who had changed his name to Dondanville in Illinois, followed Wallace to California and eventually settled in San Gabriel. In the early 1900's, two sons of Alphonse Dontenville immigrated to California, Ernest Joseph in 1916 just before World War I, and Cyril in 1922. Both adopted the name Dontanville. Michel Dontenville and his sons Wallace, Alphonse, and Emile and their families are the subjects of Family Index Series 2.0.

In 1851, Felix Dontenville, also a grandson of Simon Jude and a son of Jean George departed from Saint Maurice. He arrived at the Port of New York in November destined for St. Louis, Missouri. Upon arrival Felix found work in a tavern. By the 1860 census Felix had changed the spelling of his family name to Dondeville and was married to Margaret Schmidt. Their first child August was born in 1859. Felix became a St. Louis Policeman and four additional children were born to the marriage.

In 1890 August Dontanville, son of Antoine Dontenville and Virginie Duffner, immigrated to California. Records show that he lived initially with Wallace Dontanville in Pasadena. He married Melanie Duffner and raised six children. In 1913 Alfred Joseph, the oldest son of Leo Felix Dontenville and Justine Kern, and a great-great grandson of Jean Baptiste Dontenville, immigrated to Ohio. There Alfred married Mary Brnak and raised three children. Augustine Dontenwill, who came to New York in 1872 eventually, became an Archbishop in Canada.These three separate and distinct family groups Auguste who came to California, Alfred who came to Ohio, and Augustine who was an Archbishop, are subjects of Family Index Series 4.0.

In 1908, Nicolas Emil Dontenville, son of Gregoire, and great grandson of Francois, older brother of Simon Jude, immigrated to New York and eventually to Connecticut. Upon arrival Nicolas began using Emil as his first name, as he had done in Alsace. He married and fathered a son, Emil Jr. who eventually settled in Ohio. In the 1970s Aimar Dontenville, son of Francois Paul and grandnephew of Nicolas Emil, immigrated to New York and eventually to Florida. See Family Index Series 5.0.

The largest groups of Dontenvilles in the United States, still bearing the original spelling of the family name, are descendants of Nicolas and Martin Dontenville, sons of Laurent Dontenville and great grandsons of Jean Nicolas Dontenville and Barbe Antzenberger of Saint Maurice. Jean Nicolas was also a first cousin of Simon Jude. Martin and his wife Marguerite Welsch came to New York from Dieffenbach-au-Val in 1887. Nicolas came to New York in 1891 with his wife Philomena Kleinprinze and their four young children. A fifth child had died at birth before their departure and three additional children were born in the United States. This family is the subject of Family Index Series 6.0.

This then was the beginning of the Dondanvilles / Dontanvilles / Dontenvilles / Dondevilles in the United States. Today descendants of Simon Jude Dontenville & Catherine Geiger, Francois Dontenville & Marie-Elisabeth Munsch, and Jean Nicolas Dontenville & Barbe Antzenberger and the other Dontenvilles who have come, extend over seven generations and are located throughout the United States. Brief biographical sketches of those early generations are presented on this web site.