DONDANVILLE
DONTANVILLE
DONTENVILLE
ADDITIONAL DONTENVILLE FAMILIES
4.3
AUGUSTE DONTENWILL (1857-1931) Archbishop Augustine, OMI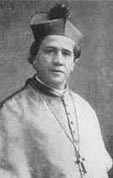 Auguste Dontenwill, known as Augustine, was born in Bischwiller, Alsace, June 4, 1857. He was the son of Francois-Xavier Dontenvill a mounted policeman born in Hirtzelbach on September 11, 1822 and Marie-Rosine Uhrich born in Scherwiller on February 4, 1822. Auguste was 15 years of age when he came to the United States. He arrived at the Port of New York on September 10, 1872 aboard the Ship Denmark from Le Havre. He joined his Uncle Francois-Etienne Uhrich an OMI Priest in Boston Center, New York, just outside of Buffalo. His uncle had immigrated to the United States in 1850.

In the mid 1870s he entered the Canadian College that is now the University of Ottawa. Upon graduation he entered his Oblate novitiate. He was ordained into the priesthood as a member of the Missionary Oblates of Mary Immaculate, at the age of 28, on May 30, 1885. He stayed at the University as a professor of languages and natural sciences with responsibility to maintain the painting workshop and direct small seminars.

Augustine became the Director of the College of St. Louis in New Westminster, British Columbia in 1890. He was appointed coadjutor of New Westminster Diocese to Monsignor Durieu, Vicar Apostolic on April 3, 1897. On August 22, 1897 he was elevated to Bishop. In 1898 construction began on Holy Rosary Cathedral in Vancouver. The Right Reverend Augustine Dontenwill blessed the cornerstone in July of that year. . On June 1, 1899 Augustine succeeded Monsignor Durieu as Bishop of New Westminster. The new Cathedral opened October 22, 1899. In 1908 the Diocese of New Westminster was elevated to Archdiocese of Vancouver. Augustine Dontenwill became Vancouver's first Archbishop.

Shortly following his appointment as Archbishop of Vancouver Augustine was elected Superior General of his Congregation. On September 21, 1908 he resigned the Vancouver Archbishopric and traveled to Rome. On January 19, 1909 he was appointed Archbishop in the Roman Curia. As Superior General of the Oblates of Mary Immaculate, Augustine was responsible for his Congregation's mission activities throughout the world. In the performance of his duties as Superior General Augustine visited all of Europe, Ceylon, South Africa, and Mexico. He twice returned to Canada.

There was a temporary interruption of his official functions from June to December 1919 due to a bout with the Spanish Influenza. He had a rich personality, marked by the gift of organization as a teacher and an evenness of temper. Archbishop Dontenwill died in Rome on November 30, 1931.

Augustine was the third of four known children of Francois Xavier and Marie Rosine Uhrich. U.S. Census records for 1900 reveal that his older brother Francois Etienne immigrated to the United States in the mid 1880s. He married a young lady of French Canadian descent. They had three children: Eugenie born in 1889; Augustine in 1894; and a third child born before 1900. In 1900 the family was living in Buffalo, and in 1920 they were in Lockport, New York. Eugenie married William A, Davenport in 1928. Davenport had a son, Francis, by an earlier marriage.

Canadian Census Records reveal that his sister Marie Eugenie, who was a year his elder, had come to Canada in 1901, and was head of a school on the Wilwemikong Indian Reservation on Manitoulin Island in Southern Ontario Province. Following Augustine's transfer to Rome, Eugenie came to the United States as a teacher at St. Joseph's Institute for Informed Instruction of Deaf Mutes in the Bronx, New York. She became a naturalized citizen and continued to teach at St. Joseph's into the 1930s.