DONDANVILLE
DONTANVILLE
DONTENVILLE
16.3
ELLIE RAE DONDANVILLE (1875 -1952)
WILLIAM P. FREAD ( 1877 -1964)

Ellie Rae and her twin sister Nellie were born in Serena Township, LaSalle County, Illinois on November 18, 1875. They were the second and third children of Daniel Dondanville and Mary Ellen DeBolt.Throughout her life Ellie Rae Dondanville was referred to as Ell. She attended local schools in Serena and moved with her family to Sheridan, Illinois when they sold their farm in the late 1890s.
In 1903 Ell married Dr. William Phinias Fread. Also born on a farm in Serena Township, Doc Fread, as he was widely known, had graduated from Herren Medical College in Chicago earlier in 1903. They established their home in Serena an Doc practiced general medicine there.
In 1908 Ell and Doc followed the rest of the family to Oklahoma where Doc established practice in Enid. They traveled to Oklahoma by automobile, often traveling overland with the aid of a compass and Chicago Motor Club Guide. Very few miles were on roads or trails as the prairie was often better traveling. The trip took twelve days. In 1910 Ell and Doc returned to Illinois and Doc set up practice in Ottawa. He returned to Chicago in 1918 -19 to complete a residency at an Eye /Ear / Nose and Throat Clinic in order to specialize in that field.
From his first Oldsmobile in 1899, a buggy with a tiller for steering, Doc was a great fan of the automobile. In 1918 he decided to build a house on a truck chassis, thus creating the first, or one of the first motor homes ever built. It was built on a Reo "Speed Wagon " and included running water, from a tank under the roof, hinged bunk beds to sleep six, a chemical toilet, gun cabinet and kerosene stove.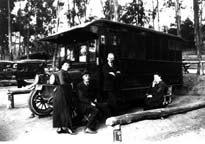 In their motor home Ell and Doc traveled most of the 48 states over a five year period. In 1921 Dan and Mary Ellen spent the winter with them in California visiting the Rose Bowl and many of the California Dondanville cousins. On one trip to Montana Doc set up shop on a kitchen table and removed 25 or more tonsils and some adenoids with Ell administering the ether.
Doc had volunteered for military service in World War l but was placed on a secondary list and not called. He joined the 129th Infantry Medical detachment stationed in Ottawa in 1923. he was promoted to major and Medical Unit Commander in 1936, holding that position until his retirement in 1941.
In 1923 Claribel Dondanville, the wife of Ell's youngest brother LaVern was killed in a tragic fire in Lonepine. Faced with trying to run a ranch and raise two young children, Vern made the difficult decision to send Helen , age five , and Billy , age three, to Illinois to live with Ell and Doc. In the late 1920s they built a new home in Ottawa at 215 E. Prospect Avenue.
The Fread home on Prospect Avenue was never empty. Helen and Bill were raised there. Ell's sister Florence lived there from the early 1930s until 1964. Ell's twin Nell lived there off and on from the late 1940s caring for Ell during her illness and keeping house for Doc after Ell's death.
Both Ell and Nell were average size women until their late20s at which point they both began to grow to weights well over 200 pounds. Both were afflicted with extremely high blood pressure. Ell suffered a stroke in the late1940s. She died on July 27, 1952 following additional strokes. Doc Fread died in 1964.Both are buried in the Sheridan, Illinois Cemetery.
Dr. William Phinias Fread had a profound impact upon the family of Dan and Mary Ellen Dondanville. It was through his influence that his brother-in -law Floyd attended medical school. It was Doc who influenced his nephew Bill's decision to attend the United States Military Academy at West Point. That early motor home inspired two generations of RV enthusiasts in the Howser family. His early interest in automobiles and his frequent trips to visit Ell's brothers , sisters , and cousins nurtured lasting bonds between units of the family. Lastly, Doc's keen interest in photography resulted in a sixty year pictorial history of the Dondanville family.